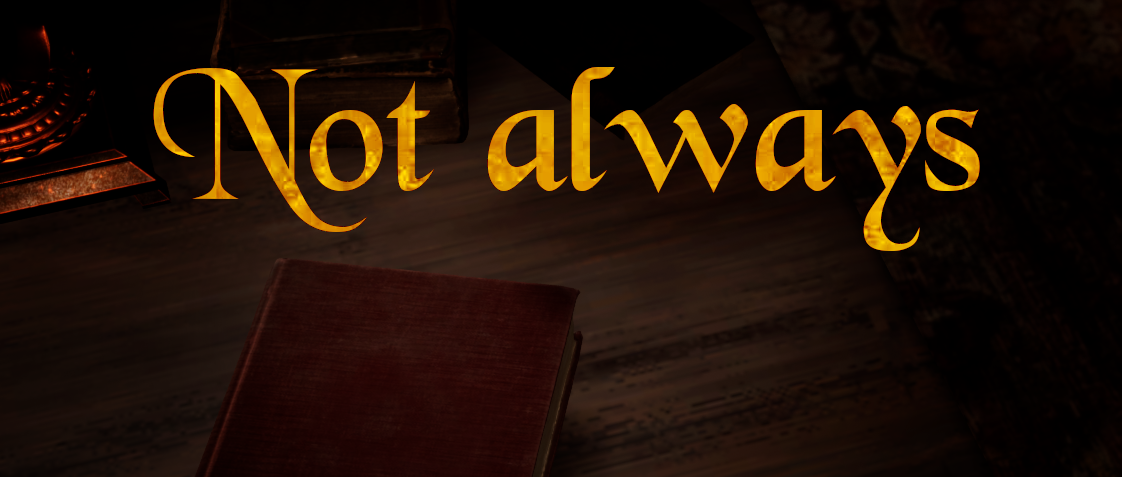 Not always
A downloadable game for Windows
You wake up in an empty old mansion.

You were supposed to be reading a book in your room just a few minutes ago.
Where are you, and who is the woman wandering around the mansion?
Find your way out of the mansion by collecting items and sometimes solving riddles.
目が覚めると、誰もいない古ぼけた屋敷にいた主人公。
さっきまで、部屋で本を読んでたはずなのに。
ここは一体どこなのか、屋敷を彷徨う女は誰なのか。
アイテムを集め、時に少しの謎解きをしながら探索を進めて、屋敷から出る方法を探そう。
■Genre / ジャンル
Exploration horror game / 探索ホラーゲーム
■Operation Method / 操作方法
Movement / 移動:W / A / S / D
Inventory / インベントリメニュー:T
Interaction / 決定:E
Exit from the game / ゲーム終了:Esc

※何かアクションを起こす必要がある時は、キー入力案内が表示されるようにしています。
*Whenever any action needs to be taken, the key entry guide is displayed.
■Time to clear the game / プレイ時間
About 30 minutes

約0.5時間
■Update History / 更新履歴
ver1.1
2022/6/30: Fixed a bug that caused one event to occur in succession.
2022/6/30:ひとつのイベントが連続して発生するバグを修正
Purchase
In order to download this game you must purchase it at or above the minimum price of $1.50 USD. You will get access to the following files:
Not always ver.1.1.zip
1,023 MB